Welcome to Birdsville
It's a long way from anywhere, but a great place to be!
Located in outback Queensland, the township of Birdsville is around 1590km west of Brisbane. It sits on the border of the Simpson Desert and is 175km from Poeppel Corner – the point where Queensland, South Australia, and the Northern Territory meet.
Travel Overview
Yeah, you're not going to drive here in a day… but you can possibly fly here in a day, or you can do what thousands of others do and make the epic multi-day road journey from wherever you are in the country. The Races are a must-see event, but half the fun is getting here. So make sure you do your research to get a sense for the distance from you to Birdsville, or just click below for an overview of road and air travel information.
Road Travel & Conditions
First up: Birdsville is 4WD country. Unless you are coming from the North an average sedan or hatch is highly unlikely to make it all the way to Birdsville, regardless of the point of origin.
All roads leading into Birdsville are UNSEALED and demand driver concentration. Caution and adequate preparation are necessary when travelling on outback roads – please ensure that excess fuel, water, food, medical supplies and spare tyres are carried in case of emergency.
The maximum speed limit on all Queensland roads, including open surface (i.e. unsealed) is 100km/h, unless otherwise signposted.
Please take care when driving:
be aware of stock and wildlife on or near the road, especially at night;
drive at a speed to suit the road surface conditions and visibility;
towing vehicles can raise dust, the best approach is to stay well left and slow down or pull off until visibility is restored. Do not overtake if you can't see clearly;
always err on the side of caution.
For up to date information on road and weather conditions en route to Birdsville, please click on one of the below.
For further travel information and travel planning check out www.ExplorOz.com
For remote area communications the Australian National 4WD Radio Network Inc. telephone contact is – (08) 8287 6222
** Please note that while in Birdsville, the usual road rules apply including the wearing of seatbelts within the river campgrounds. Traffic police will be on duty and enforce a zero tolerance policy to traffic infringements – strict penalties will apply.
Queensland Police offer a free "blow before you go" service from 7am to 10am on the Sunday following the Birdsville Cup. Visitors are encouraged to use this service before leaving Birdsville.
Air Travel
Persons with access to suitable aircraft are able to fly into Birdsville for the races, with the Diamantina Shire Council responsible for Birdsville Aerodrome management during race week. A per person landing/access fee applies for all persons utilising the Aerodrome during this period.
Further information for all travelling by aircraft to Birdsville for the Races can be found by visiting: http://www.thediamantina.com.au/birdsville-races-airport-management.
Weather
Birdsville
Feels like: 19°C
Wind: 20km/h WSW
Humidity: 26%
Pressure: 1018.3mbar
UV index: 1
min 5°C
22/4°C
24/7°C
28/9°C
20/6°C

Spring weather is sensational in Birdsville, with typical daytime temps in the mid-20s (that's Celsius for our international guests). Overnight lows are typically around 10 degrees. You will therefore need both a hat and sunscreen for the daytime and warm clothes for night time events. It's the desert, so it doesn't rain often… but we recommend you are prepared for it regardless.
The weather feed above provides an overview, but you can access a full forecast for the Bureau of Meteorology here.
Emergency & Important Information
EMERGENCY
Birdsville Clinic Opening Hours (Race Week)
Monday – Thursday September 9am – 12pm & 2pm – 4pm (nurse clinics only)
Friday 1st & Saturday 2nd September 9am – 12pm (Doctor present for acute cases) & 2pm to 4pm (nurse clinics only)
Sunday 3rd Sept 9am – 12pm & 2pm – 4pm (nurse clinics only)
If you need urgent care please ring 000.
Please note
Birdsville does not have a pharmacy.
To discuss options please phone Charleville Pharmacy on (07) 4654 1672 and they will advise you of the procedure.  Usually, they will request that you fax the script to them on (07) 4654 3178 and this can be done at the Birdsville Post Office opposite the Hotel.
FOR NON-URGENT ASSISTANCE PLEASE CALL: 131 444
CALL 000 FOR EMERGENCY POLICE, FIRE OR AMBULANCE ASSISTANCE.
Book a Complete Tour
Let someone else handle the logistics, and just enjoy the ride!
Where to Stay
Ask those who've been to the Birdsville Races and they'll tell you: one of the best parts is the camping experience. Thousands of travellers from all walks of life converge on the town and erect a sprawling mass of tents, around which they swap stories of the day's activities, recount their adventures en route, and just generally have a yarn with each other. There's bakers camping next to bankers, stockman sharing a drink with CEOs… it's all just about having a good time and meeting new friends.
Most visitors stay in their own tented accommodation, but there are two other options available. However, please note the Birdsville Hotel is NOT one of them – there's no accommodation there during race week.
Riverside Camping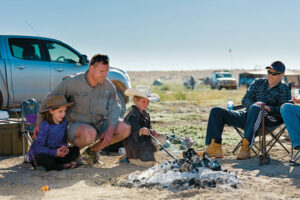 Free campsites are available between the Diamantina River and Birdsville. Visitors may camp on the Birdsville side of the Diamantina River only. Waste receptacles and a limited number of portable toilets will be located nearby to common campsites.
Showers are available in town opposite the information centre for a small financial donation.
Bring your own firewood, respect the environment and do not cut down any branches or trees for your fire. Please also ensure you put out your fires and be fire safe.
Ice is available from the Roadhouse in town.
There is a footpath along the road to walk into town safely along from your campsite

Skip bins are also provided along the side of the free camping areas, please ensure you place all your rubbish in these to ensure we leave the environment clean and tidy.

Drinking water can be accessed at the Town Common (south of town between the first cattle grid and the Diamantina Bridge). Only use taps that have a green 'Drinking Water' sign fixed to it.
Tent City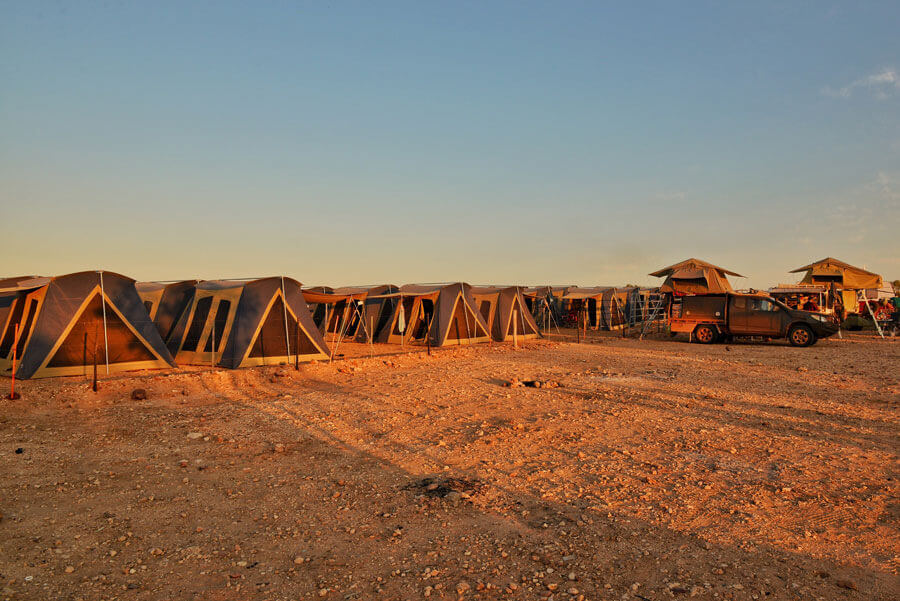 The Diamantina Shire Council has partnered with Rent-a-tent to provide tented accommodation for visitors to the Birdsville Races.
Located near the heart of the town and close to all food, the campsite will provide an accommodation alternative for those arriving by air or those who don't want the hassle of setting up and pulling down their own campsite.
Spaces are limited so book now.
Birdsville Tourist Park
The Tourist Park offers a range of accommodation options throughout the year but only powered and unpowered sites are available over the race period.
T: 07 4656 3214E: info@birdsvillecaravanpark.com
Events en route and on the way back
There's a few great surrounding events you might want to check out, both en route to Birdsville for the races in September, and on the way home again afterwards.
Betoota Races
The first race meeting of the Simpson Desert Racing Carnival is the Betoota Races held the Saturday prior to Birdsville. It is a country race meeting which prides itself on being family-oriented. The weekend starts with a live music on Friday night and a six-event race meeting on Saturday. A children's entertainer keeps the children amused from 1pm to 8pm. Meals, refreshments, and camping are all available.
For more information, visit here.
Windorah Yabby Races
On the Wednesday of race week, it's Windorah's night for a party. Have a ball at the Windorah International Yabby Races at the Western Star Hotel. By the end of the night, you may be leading your yabby around the winners circle. The racing is held on the main street in front of the Western Star Hotel.
For more information, phone (07) 4656 3063.
Bedourie Races
Held on the Saturday following the Birdsville Races, Bedourie is the third race meeting of the famed Simpson Desert Racing Carnival and provides great outback racing action. The event includes Friday evening rodeo, Saturday races, top betting facilities, food and refreshments, and entertainment all weekend.