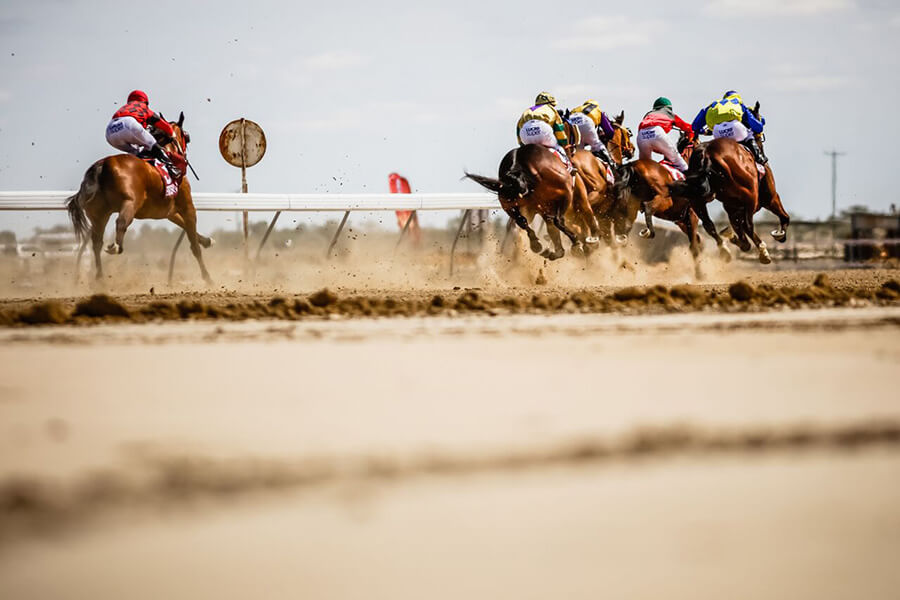 202While the Birdsville Races experience goes beyond the two-day race meet, there's no doubt it's the centrepiece of the event. So, what can you expect? 
Over a 13-race program, you'll witness all the fanfare and excitement of a typical racing meet, superimposed on the dramatic and dusty desert landscape. With more than $260,000 prize money on offer, you can bet the racing is serious. The early races may have attracted nearby stockmen and property owners – and both still feature heavily in winners' lists – but the modern field is full of national and even international entrants vying for the prized Birdsville Cup.
Situated three kilometres to the South East of the town the track itself is on a claypan alongside the sand dunes. The track is 2000m in circumference with the longest race, the 1600m Birdsville Cup, starting in the back straight. All starts are on the course proper with the exception of the 1000m, which starts from a chute. Birdsville is one of only four tracks in Queensland that run anti-clockwise.
Crowds of over 6000 racegoers celebrate the carnival each year enjoying two days of quality outback racing and three great nights of live entertainment. Other entertainment includes the RFDS Cocktail Party, RFDS Fun Run, Fashions on the Field, Fred Brophy's Boxing Troupe, a variety of food vendors, a giant auction, and much more.
Great entertainment, class horseracing and premium hospitality makes for a fantastic week in the heart of Australia's outback.
You can see the full Race Program here, or check out Fashions on the Field here. 2023 Entertainment options coming soon!