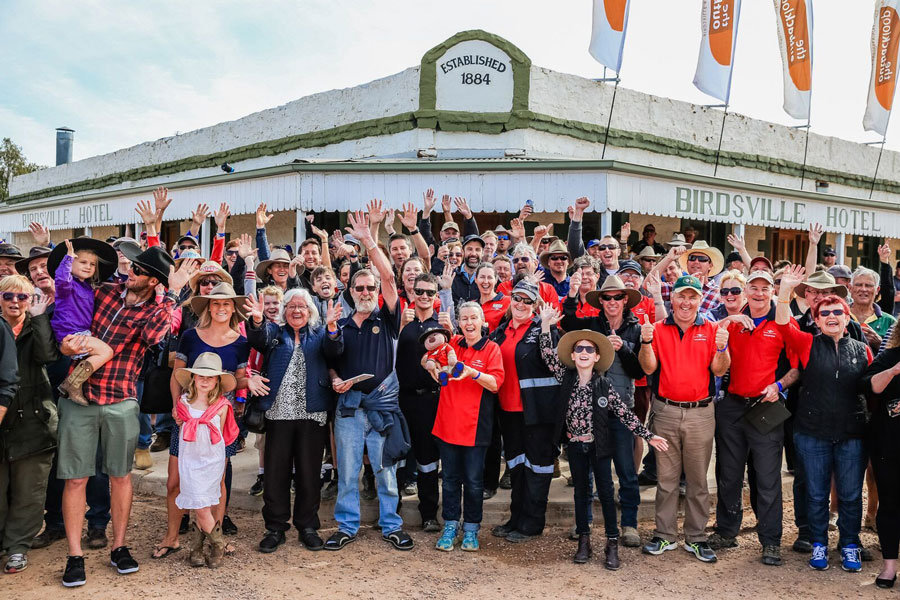 Introducing the Club behind the races…
Raising funds for the provision of medical services to the region was the primary reason for the establishment of the races in 1882, and subsequently led to the formation of the racing club which runs the annual event. Now known as Birdsville Race Club Inc, the club has been through various name changes since those early days. However, one thing has remained constant: its focus on looking out for the health of the residents in and visitors to the Birdsville region. The annual event continues this by supporting the Queensland Section of the Royal Flying Doctor Service. Notably, the lifesaving work of the RFDS is something which would have been inconceivable in the days of the first races, which preceded powered flight by several decades!
The big event
Since 1882, local residents, horses, riders, families, and friends have gathered in Birdsville for the two-day race meeting. In all those years, the spirit of this annual gathering has not changed – except that the meeting has now evolved and grown into an internationally-recognised major outback event.
Every year, with the generous financial support from our sponsors and visitors to the race meeting, the local race club committee, its members, and a dedicated group of volunteers work towards and plan for a successful and profitable meeting under the banner of the Birdsville Race Club. The organising committee recognises the importance of our sponsors and appreciates their continued support, as well as that of our volunteers.
The Committee
President: David Brook
Vice President: Don Rayment
Vice President: Gary Brook
Secretary: Vacant
Treasurer: Jenna Brook